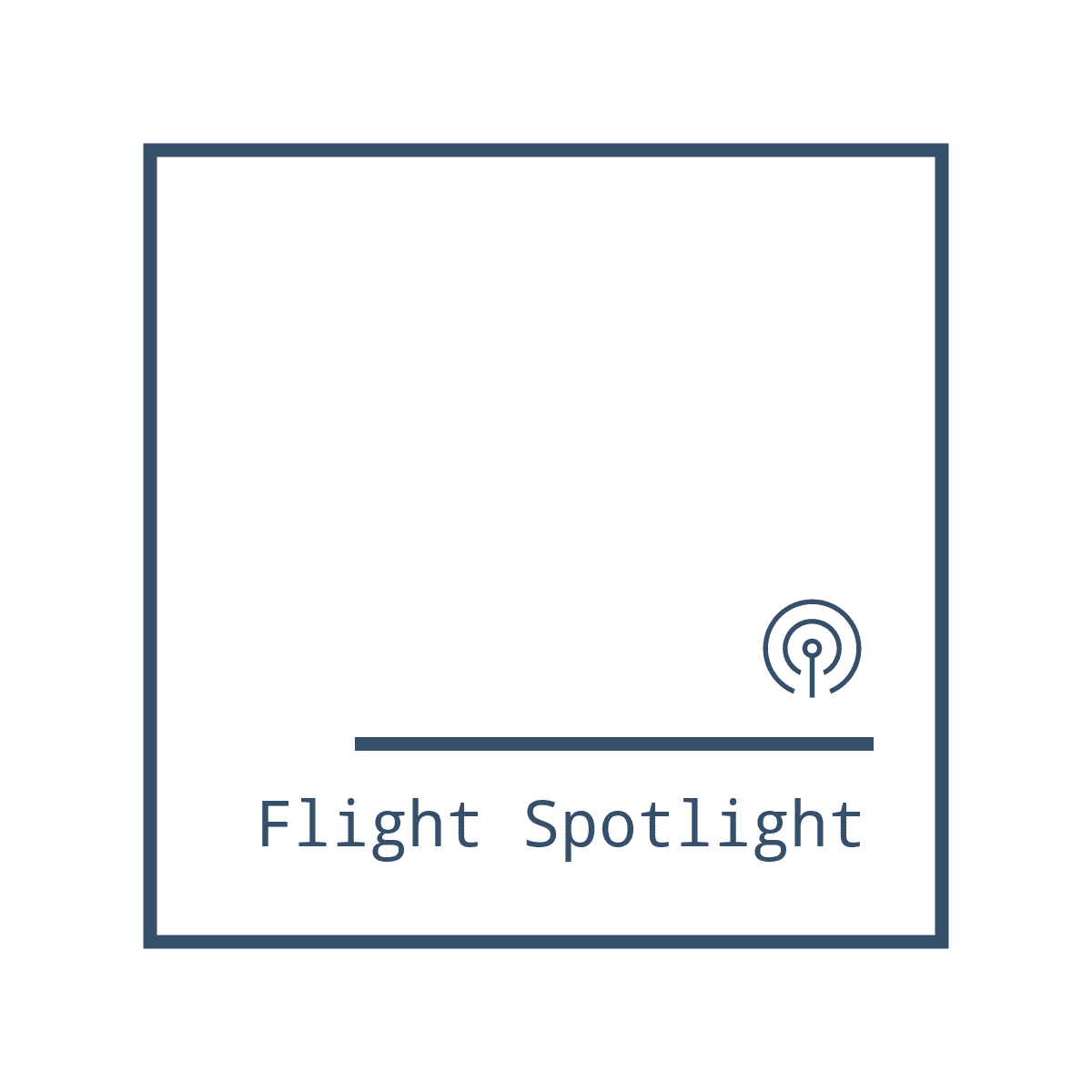 Flight Spotlight enables you to see flights in realtime by subscribing to updates to a geographic area. It can display live manned and unmanned air traffic on a 3D globe and additionally display geo-fences etc. In the context of UTM / U-Space you can identify drone traffic using Network Remote-ID, accept feeds for broadcast Remote-ID data and plug in live ADS-B or other air-traffic data. From an unmanned aviation perspective, currently there is ASTM Network and Broadcast Remote-ID standards and they are implemented, as other standards are released, they can be enabled as well.
The live feed and the identification data is processed using a complementary server application called Flight Blender. Flight Blender can fuse and stream manned and unmanned flight data using multiple technologies: ADS-B, Radar, FLARM etc. Network Remote-ID capabilities are also provided by Flight Blender as a specialized module.
Features
This software is compatible with all ASTM and EuroCAE upcoming standards for UTM / U-Space
Join our Discord community via this link 💫
Screenshots
Initial screen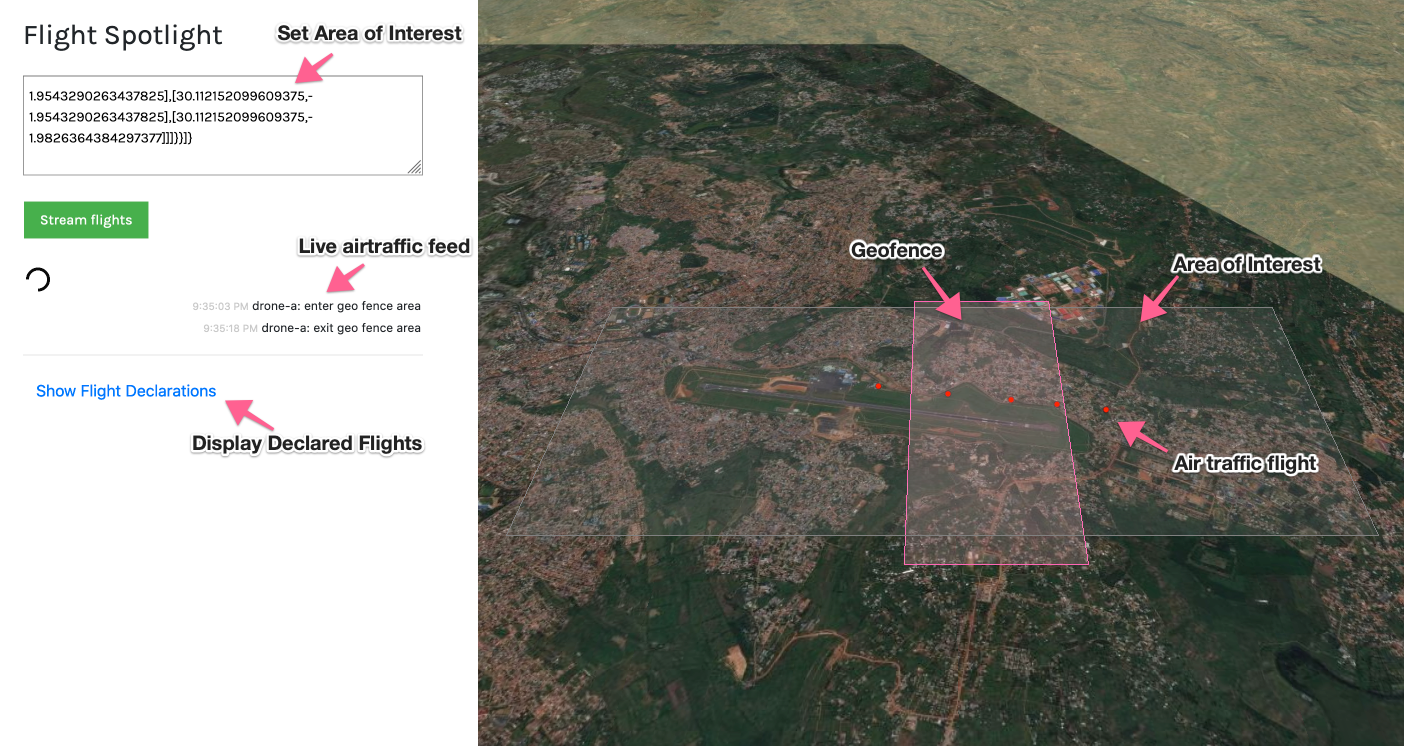 Declared Flights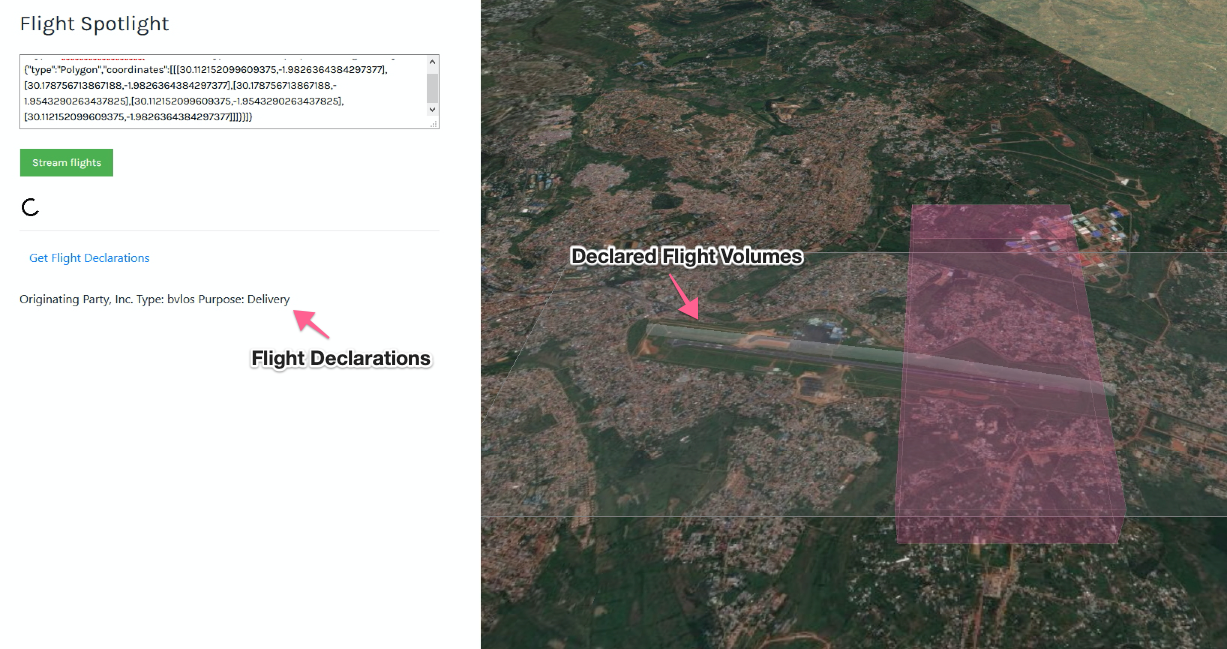 All data is in 3D + time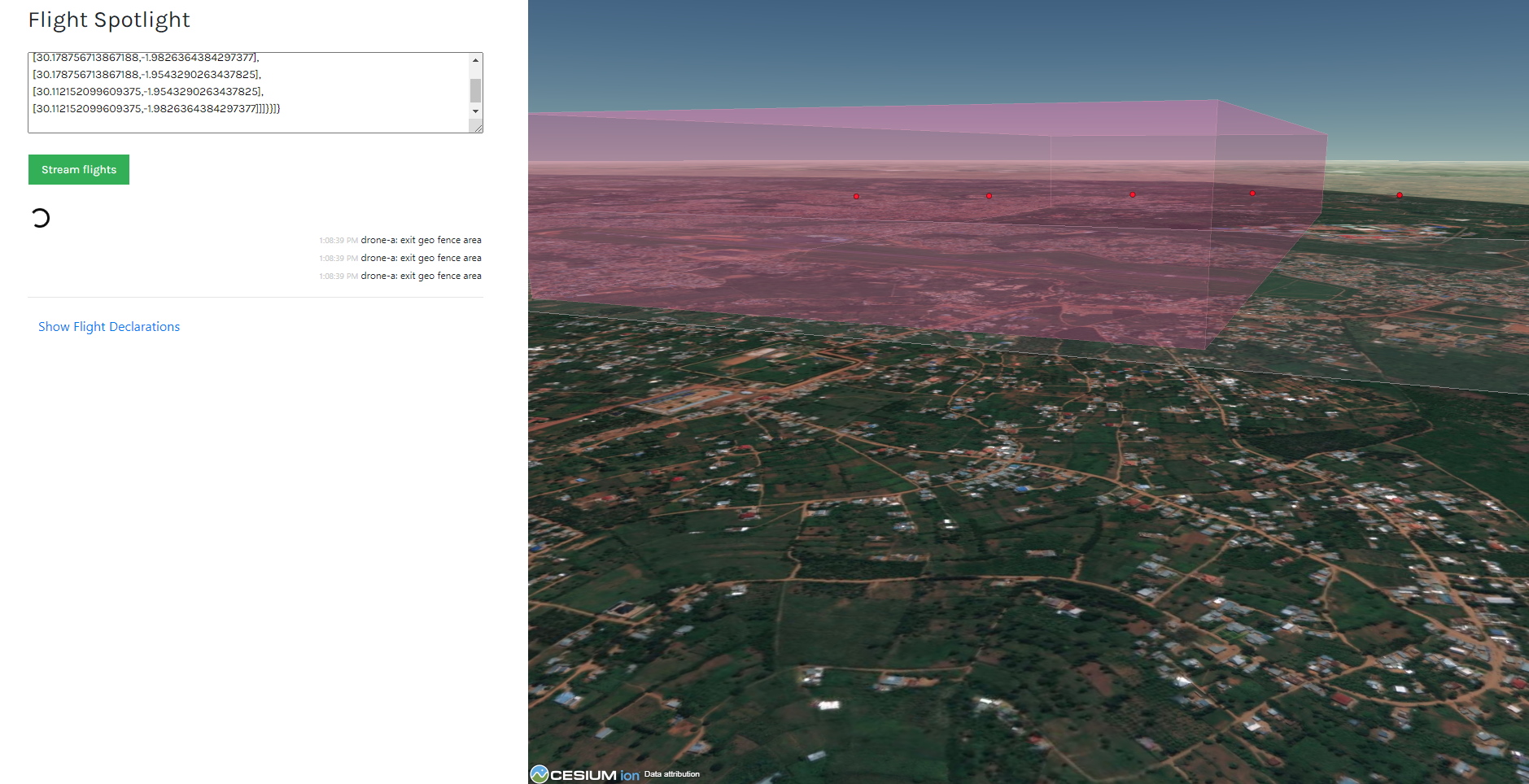 Self host / Installation
Docker and Docker Compose files are available for running this on your own infrastructure. To install a production server please follow our Installation Guide.
This project uses Node JS and Express JS, a Tile 38 and Redis server, and can connect to a DSS instance. If you are using a DSS instance, you will need a JWT token to connect to the airspace. For that, you will need a approved UTM / U-Space OAUTH server (e.g. Flight Passport).
In the console execute the following command git clone https://github.com/openskies-sh/flight-spotlight
Enter the directory cd flight-spotlight
Copy the sample .env file: cp .env.sample .env
Open the .env file and fill out the credentials nano .env
You will need help to fill out all the links, since this is associated with Authentication, in short, it will ask you to point to a Flight Spotlight or any other OAUTH2 provider for credentials. (See below for non-Docker Installation)
Finally run the installation by typing docker-compose up
Test run
Once you have the Docker container running, you can follow the instructions below to "subscribe" to flights in a AOI:
Navigate to http://localhost:5000/spotlight in your browser to launch the application. You should see a globe and a control to input a Area of Interest (AOI).
Copy paste the sample GeoJSON AOI from the importers folder in the Flight Blender repository
Click the Stream flights button. This subscribe you to the flights in AOI.
Openskies stack
Flight tracking data can be submitted to Flight Spotlight by an Display provider like Flight Blender via the accompanying software like Flight Launchpad, for more information see the diagram below
Logo source